Your home becomes the local boutique tasting room for this event! That's right. Let us reproduce what we do best on our walking tours in the warmth of your home. Having a tasting party is all the rage these days.
Whether your best girl friends are gathering together for a girls night out or your family is arriving to explore the Wine Country or you've invited your boss & coworkers to your home, we'll create an exceptional event soon not to be forgotten.
From blind tastings to exploring new wine & food pairings, your guests will love this new experience and so will you. It's most fun when you get the avid beer lover in your group to participate too.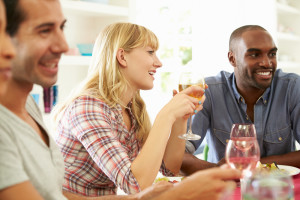 We've taken out the guess work on how to create a fun & entertaining experience when getting your friends or family together. Select from a variety of options, include only your favorite varietals or dare to be brave and try something new. Be introduced or expand your knowledge on the art of wine and food pairing in a fun and casual way.
Each tasting, beautifully presented, is custom crafted to be explored several times by each guest. In other words, there is plenty of tastings for seconds and thirds if you prefer! We also feature each pairing so your guests know exactly what they are tasting.
Consider your tasting party to be your cocktail hour. However THIS cocktail hour may just keep you sitting with your best friends on the couch a little longer before you bring out the dinner!
Available: Friday and Saturdays only
Currently available in:  Sonoma County
Please call us to discuss how we can make your next dinner party a Tasting Party too!