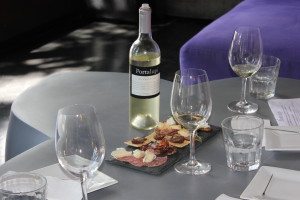 Experience the best that Wine Country has to offer on guided walking tours of charming downtown Healdsburg. Working with local wineries and gourmet food artisans, Wine Country Walking Tours specializes in creative, fun, and entertaining adventures exploring fine wine and cuisine.
Discover for yourself why certain wines taste better with specific foods by sipping and nibbling your way through Wine Country in a fun and welcoming atmosphere.
With the gentle guidance of a resident expert, enjoy innovative wine and food pairings in private seated tastings. Mingle and chat with the winemakers. Stroll this historic town and meet the locals. Learn about the art of wine and food as well as local history and current trends, all while making new friends. It's a wine and foodie lover's dream come true.
And the dream is particularly special for Valentines Day when for just 3 nights (Feb. 12 – 14) Wine Country Walking Tours offers a special evening tour, blending Wine Country abundance with small-town cheer.
Whether you're celebrating a birthday, anniversary, enjoying a romantic getaway, or relaxing with friends, Wine Country Walking Tours blends of the best of the season with the magic of Wine Country for a special wine and food adventure.