What a great experience is it when you see a winemaker share his passion, enthusiasm and appreciation of wine while seated at a table with your family and friends. This is what a Winemakers Dinner experience is all about.
Step away for awhile from the local tasting rooms and escape to the vineyards for an intimate evening setting with the winemaker. It's your time to get to know the craftsman behind the vino you enjoy time and time again.  Listen to their stories and their jokes, their inspiration and what they personally drink. Walk among their prized possession, their vineyards, and perhaps even their home.
As you gather around the table, enjoy a gourmet meal created by their notable chef paired with fabulous wines poured by the winemaker themselves. Working hand in hand, the winemaker and chef have crafted a delicious menu to create an unforgettable evening.
As the conversation and laughter flows, so does the wine.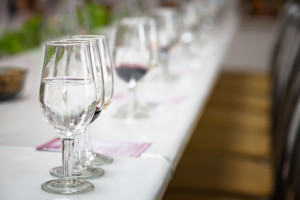 We are showcasing winemakers located in the rich and bountiful Sonoma County.  Looking for a particular setting? One with a magnificent view perhaps or one rich in history.
Let us know what would make this the most unforgettable dinner for you and your guests.